General and Competitive questions:
Please email pvunited831@gmail.com - Someone will be checking emails periodically.
2018 Spring Recreational Soccer Sign-ups:

Who can register: Boys and Girls born 2006 (11 years old) - 2013 (4 years old)
Cost: $70 for ALL Fall 2017 returning player
$95 for new players- Must turn in a copy of the players Birth Certificate
SPRING 2018 RECREATIONAL REGISTRATION
Online registration - Click here
Please email pvunitedsoccer@gmail.com - Emails will be responded to within 24 hours.
*MACY'S SHOP FOR A CAUSE CHARITY CHALLENGE*
Join Driscoll's, Inc., Pajaro Valley Youth Soccer Club, Aromas Community Center Foundation and Aromas  Soccer Club and support our mission. 
CLICK HERE FOR MORE INFORMATION AND TO DONATE

CELEBRATING TEAMS ACCOMPLISHMENTS!
Congratulations to PV United 2008 Boys
State Cup Champions, November 19, 2017
Coach Richard Gallegos and Assist. Coach Roberto Moya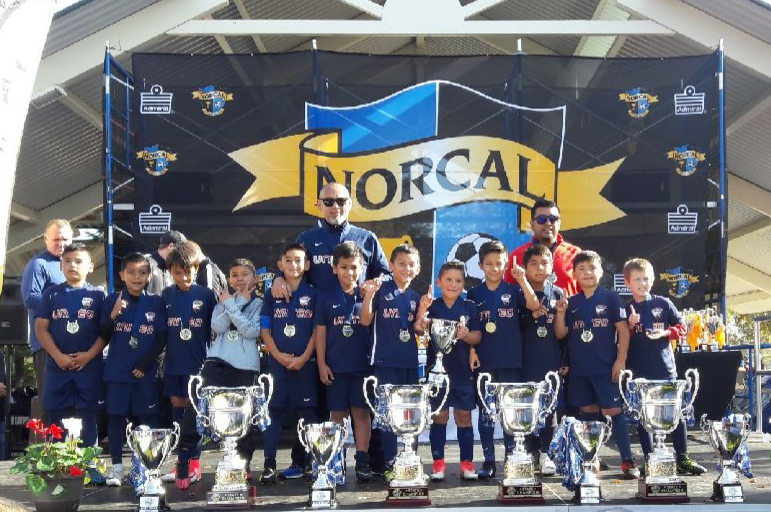 Congratulations to Leo and PV United 06B Blue
First place District Cup Nov 11-12, 2017



Congratulation to PV United 2007 Girls
1st place Fall District Cup Nov 4-5, 2017
Coach Roberto Zuniga



PV UNITED 06B win Mustang Stampede U12 Gold Division August 6, 2017


Polo Grounds and Pinto Lake Field Closures:
The County Parks fields hotline tells the status of the fields during rainy the season when they may be closed. Please pass this information onto coaches, parents and participants so everyone can be well informed of the status of field conditions.
Call (831) 454-7906

Press (1) for North County Fields
Press (2) for Mid County Fields
Press (3) for South County Fields


Welcome to the Pajaro Valley Youth Soccer Club Website.
The Pajaro Valley Youth  Soccer Club (PVYSC) is part of Santa Cruz County Youth Soccer League (SCCYSL) and part of two national soccer organizations. Currently our Club affiliates CalNorth (Cal Soccer League – CCSL) and US Club (Northern California Premier Soccer League – NorCal) both provide several levels of organized competitive league play. Our mission is to provide the highest level of soccer experience for our youth in the community while instilling leadership qualities in our youth.
To ensure a quality experience for everyone, it is important that each player and parent understand the philosophy of PVYSC as well as the rules and policies that guide our Club. It is also important that everyone shares the same high expectations for PVYSC coaching and our play.
Please take a look at our handbook for further infomation.